In Beauty Barn, we love to share. We try to share in all kinds of ways we can. We have prepared vouchers for you to redeem during checkout time. Here are a couple ways to let us share back to you;
1. Share our good news with all your other friends too with our referral link. Let your friend get Rp20,000 off from their 1st purchase on our web and get yourself 40,000 points reward.
2. Purchase through our web, booth or outlet, and we will share back with you BB Share points according to the tier below. Accumulate as much BB Share points as possible to unlock tiers for you to get more points from Beauty Barn.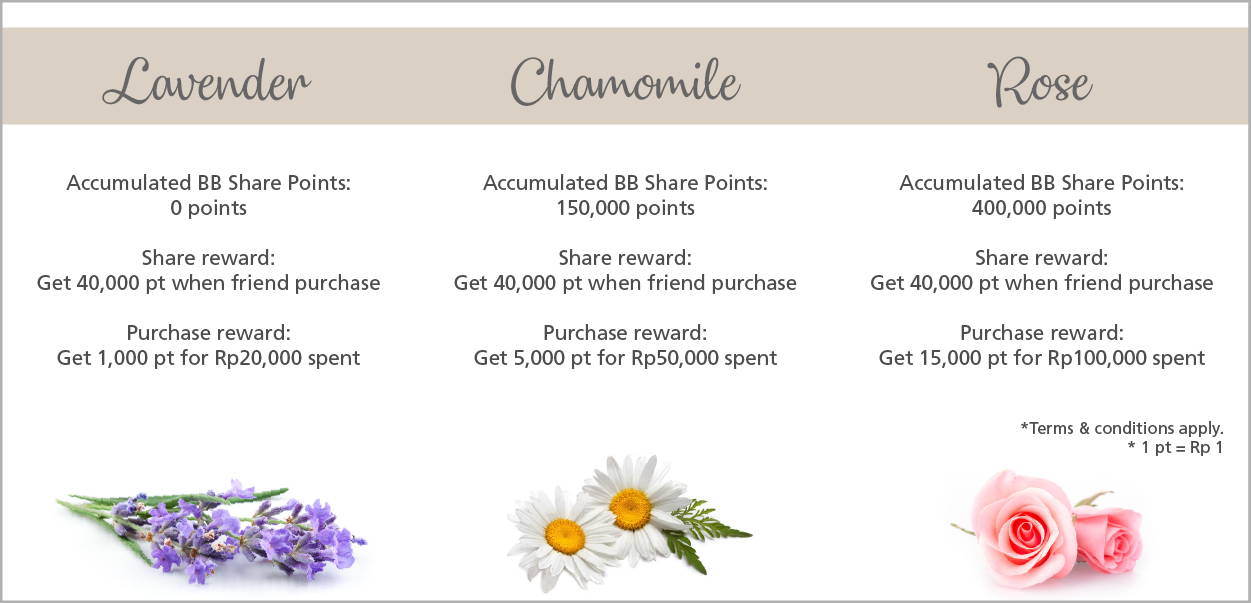 To check how many points you have, make sure you are logged in and has purchased from us previously on our web store , booth and retail outlets, and click the button below.
Terms & conditions;
- Referral reward is only applicable to successful first purchase from new friends that is not registered in our system
previously.
- To get referral link, create account and then go directly to BB Share Apps. Click "To get share points" tab, choose "Share with a friend" and copy the link below.
- Purchase reward points will be rewarded per multiples from mentioned cut offs.
- Points are not rewarded to the following conditions; discounted items, discounted checkouts using code, shipping fee or during
other promotions.
- Points will be given to purchasing account owner only.
- Points are not transferable.
- Points cannot be exchanged with cash.
- Points are redeemable via exchange of voucher used for purchase on Beauty Barn official web store, booth or outlet.

- Beauty Barn has the right to change reward scheme from time to time.
- Should there be a discrepancy of points, please report to Beauty Barn within 3 days of purchase.